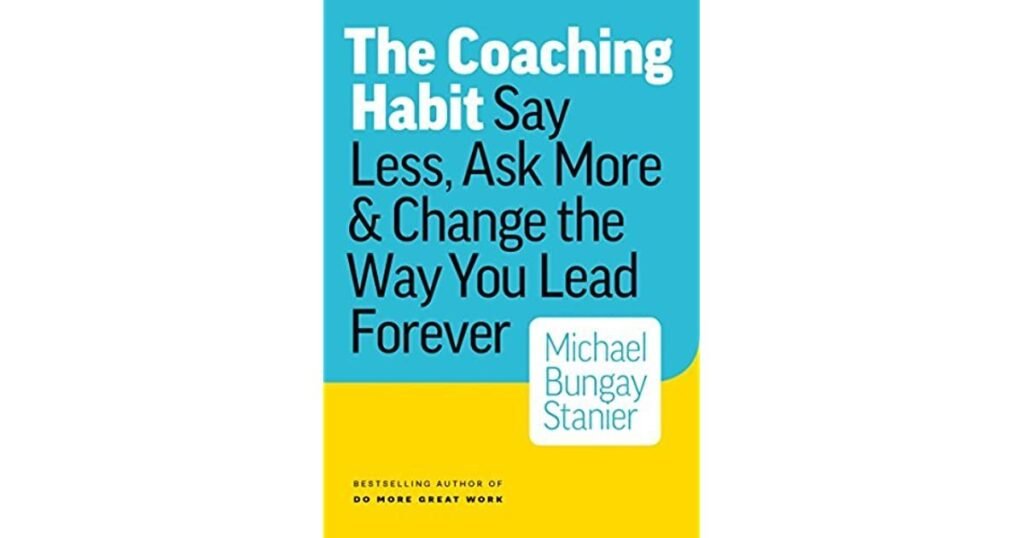 The Coaching Habit
Say Less, Ask More and Change the Way You Lead Forever
Michael Bungay Stanier, Daniel Mate and Post Hypnotic Press Inc.
If you do want to lead more in a coaching way and you are overwhelmed by the amount of books available – read
THE COACHING HABIT.
As managers and executives we have fallen victim to giving advice, to solving our team members' problems. It makes us feel good. We are advice monsters instead of asking questions and letting our people finding out for themselves. Solving team members' problems doesn't develop them.
This book outlines 7 essential questions that will break your advice habits not only at the office but also at home with family and friends. You will enable others to unlock their potential – by saying less and asking more:
The Kickstart Question: Used to get straight to the point of the conversation you want to have
The Awe Question: Ensuring the conversation stays on track
The Lazy Question: Cutting out unnecessary conversation and saving time
The Strategic Question: Asking the right questions to save time for others and your team
The Focus Question: Getting to the heart of any interpersonal challenge
The Foundation Question: Getting to the heart of any external challenge
The Learning Question: Finally ensure others find your coaching as beneficial as you do
Master them, and you'll be able to work less hard and have more impact.
"Coaching is an art and it's far easier said than done. It takes courage to ask a question rather than offer up advice, provide and answer, or unleash a solution. giving another person the opportunity to find their own way, make their own mistakes, and create their own wisdom is both brave and vulnerable. In this practical and inspiring book, Michael shares seven transformative questions that can make a difference in how we lead and support. And he guides us through the tricky part – how to take this new information and turn it into habits and a daily practice." —Brené Brown, author of Rising Strong and Daring Greatly
Complementary to the book, you might enjoy Michael Bungay Stanier's TED talk "How to tame your advice monster?"