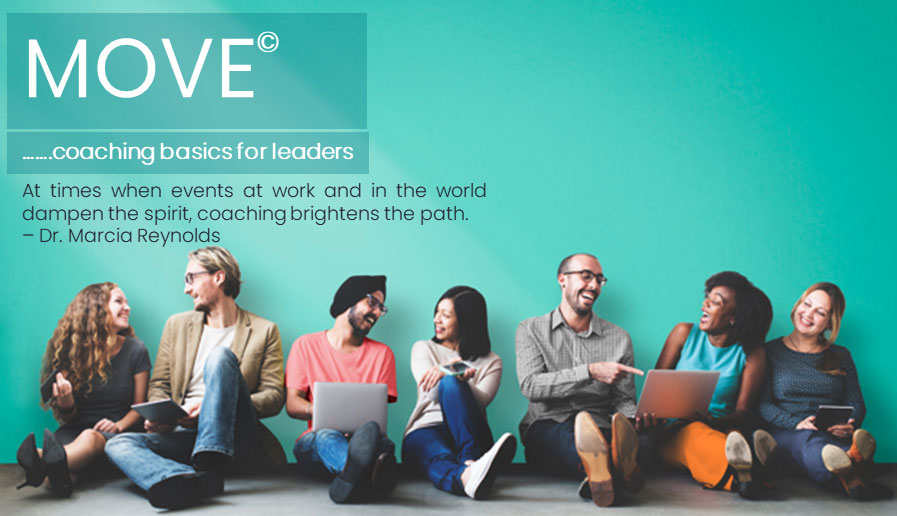 Who are you?

You are an emerging leader, an experienced manager on your path to something bigger, or searching for new ways to building stronger relationships with your team members. You want to inspire others to be more, do more, and achieve more.
What can MOVE© offer to you:

This program is ideal for you if you are committed to be a successful and inspirational leader, able to empower future leaders.
You will acquire key coaching competencies by asking the right questions and understanding the difference between coaching and mentoring and you will be able to apply these styles interchangeably and collectively.  
You will grow your capacity to facilitate problem solving, dealing with difficult situations and reaching to inner and outer
resources. You will walk away understanding how to create an empowered and effective team culture. 

Our program works on 4 key areas to unlock:
– realize how you can create positive change for yourself and your team.
– unlock your seen and un-seen opportunities
– accept your vulnerabilities and cope with set-backs
– appreciate your new learnings and apply
Blended Delivery:
Virtual live class room sessions (4 x 1/2 day)
Virtual Peer Mentoring (by building a trusted network with other participants)
Duration:
Session start:
T.b.c. (

this program can also be delivered in-house for companies

)
At times when events at work and in the world dampen the spirit, coaching brightens the path. – Dr. Marcia Reynolds
Contact us to discuss how we can help you
MOVE forward with your team.